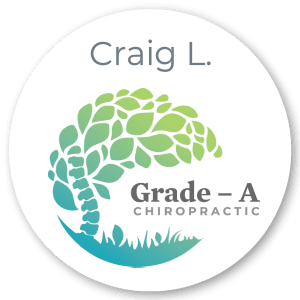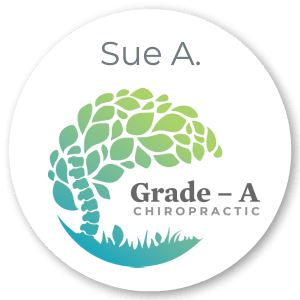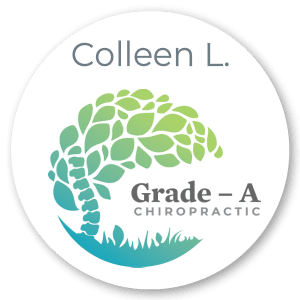 I am writing this letter to express my sincere gratitude for Grade-A Family Chiropractic Center. I have suffered with chronic neck pain and headaches for more than 25 years. Atter my very first adjustment, I no longer have a knot at the base of my skull; I am pain free in the neck area and no headache either. It is not that I was skeptical that the treatment would ease my pain, I had no idea how dramatically different I would feel. In less than 24 hours, I am overwhelmed with relief and gratitude.
Although I quite smoking 12 years ago, my family doctor said I may never get my sense of smell back.  After a few months of treatment for headaches my sense of smell has returned for the first time in more than 20 years.
Since I've been coming here I can stand, squat, and bend over without getting dizzy, even with my eyes shut.  My lower back and hips are pain free.  I can lay on my back and lift my legs.  My shoulders and forearms are a lot more flexible and pain free.  I don't have tension headaches anymore, which helps me focus better on things at hand.  It's been an all-around good experience.  Thank you for all your help!
I feel like a new person.  My sleep has radically improved in just 10 visits and I'm dreaming for the first time in 5 years.  Thanks!!!
I have had multiple bad vertigo episodes for the past 5 years.  My dentist suggested that I see a chiropractor, so I decided to try it.  I have had little problems and no episodes that are severe in the past 10 months.  I am still amazed that it was so bad for so long and I feel free to make plans without worrying that I might be dizzy!!  I am so very thankful!
After only a few a weeks through treatment I just had 2 days in a row of no back or neck pain! Can't wait until the treatment is finished!
Oh my word! So… I just left your office just a few minutes ago and to be honest I did not expect to notice much of anything this first time. Well… while sitting at my desk I realized my ROM is back! I have had a hard time turning my head from right to left and was limited for years, at least 4, and now I can do it with ease. Wow!!!
My flexibility has improved tremendously since beginning adjustments!
My A1C score drastically improved (8.6 to 7.1) in 6 weeks of treatment. Now, 6 months later, my blood sugar is more predictable and my A1C score is stable (near 7.0). I also am more flexible since beginning adjustments.  BEN C. (AGE 11)
Any of you that know me, know that I have really bad allergies and have had for over a decade. I am allergic to flowers, perfume, candles, cleaners, hair spray, cologne, shampoos, lavender, deodorant, Pine products, Lysol products grass, trees, weeds, and molds the whole gambit of normal every day smells that everyone encounters. When I encounter these normal smells my body goes into fight mode and I sneeze, wheeze and my nose runs uncontrollably. Just going outside on a spring day would set me off to sneezing and even my eyes have gotten running and weepy all spring long. I have had FOUR years of allergy shots through my doctor and Grand Rapids Allergy clinic . These shots made me worse, so I decided to quit with those shots.
I had been complaining of neck pain and Amy said you should see my chiropractor so I did. I couldn't turn my head to the left and had been compensating by turning my whole body to see when driving or looking to the left. Also, I had no feeling in my hands and wouldn't know if I had dropped something. I have lost so many keys because of this and found the last set in a bag of cat food! After my first visit I could turn my head again both ways. My energy has been extremely high and I have been getting more done than I have been able to in years! I have been sleeping much better and have been dreaming, which I haven't done in years. I wake up before the alarm and feel great, allowing me to get things done even before I head out to work. My hands are now warm and haven't been as numb in the cold. I work outside some and need the dexterity of my fingers.
Hours
Mon. 9:00am – 1:00pm | 3:00pm – 6:00 pm
Wed. 9:00am – 1:00pm | 3:00pm – 6:00 pm
Thu. 9:00am – 1:00pm | 3:00pm – 6:00 pm
Fri. By appointment
Office
206 W. Main Street, Ionia MI 48846
Call
(616) 523-6697
Grade A Family Chiropractic